MCY Skylounge Collection – Upgrading Well-being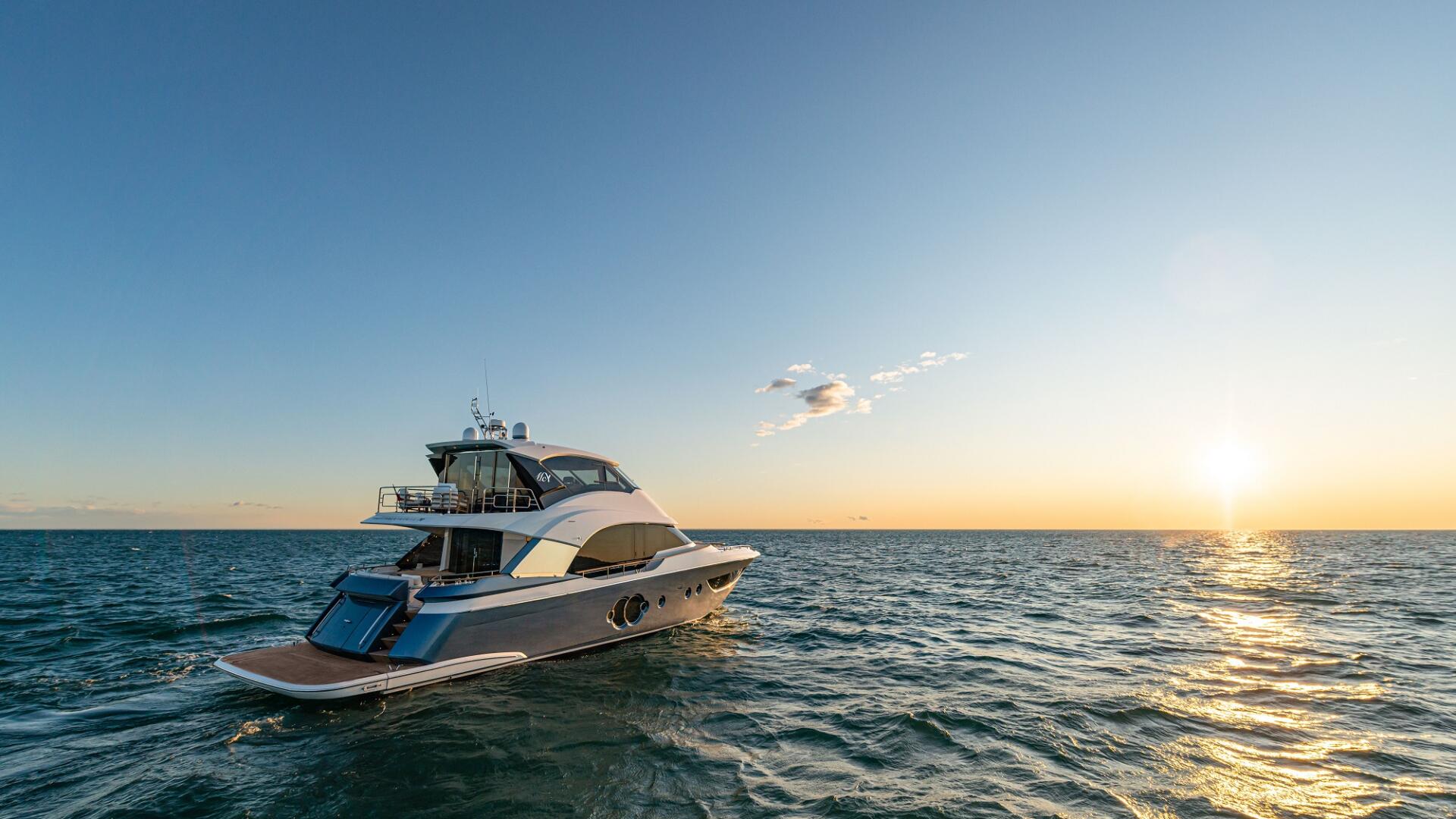 At the BOOT in Düsseldorf on 20 January 2020 Monte Carlo Yachts announced the new Skylounge collection. The first model presented is the MCY 70 skylounge.
The new collection makes sea travel much more efficient. Above all, main new key feature is the wide and customizable enclosed Flybridge – the skylounge. This is the first time an Italian-crafted yacht brings an enclosed flybridge. And, the world premiere of the new MCY 70 Skylounge is scheduled for the Miami Yacht Show in February.
Managing director of Monte Carlo Yachts, Fabrizio Iarrera stated during the announcement event in Düsseldorf: "We firmly believe in a close and continuous relationship with our customers, and the MCY Skylounge Collection is the perfect example of this. We received requests from a number of markets for yachts with even broader and more versatile interior spaces to be enjoyed all year round. We are now able to fully satisfy these customers' requests with the new models we're presenting today, which both exemplify and build on Monte Carlo Yachts' production and design philosophies."
The new MCY 70 Skylounge represents an entire new range. The company's philosophy of timeless elegance, shipyard's savoire-faire and state-of-the-art manufacturing process and technology, enable amazing customization options. Furthermore, the Nuvolari Lenard team designed the yacht as a second luxurious and comfortable home. Proud owners can enjoy their yacht 365 days a year in all sorts of weather conditions. The splendid 360° view from the skylounge brings the entire crew so close to the sea and nature.
Main features of the MCY 70 skylounge

The designer team is extremely proud of
sleek lines for safe cruising
large windows and portholes that bring an abundance of natural light
big exterior living spaces (large bow lounge area with sunpads, the cockpit dining area or the sunbathing aft terrace)
only one helm station on the enclosed flybridge
glass stairway that connects the main salon with the skylounge
finest materials (marble, glass, Italian leather, durmast oak, high-end and textiles and fabrics) selected in ivory metallic, charcoal grey and white for delivering a contemporary ambiance
The MCY 70 skylounge comfortably accommodates up to eight guests. The spacious owner's cabin has private stair access which adds to the privacy level. Most importantly, the roomy VIP cabin and the two comfortable guest cabins, the entire interior exudes Italian design elements of Monte Carlo Yachts.
In case you have additional questions feel free to contact our sales team. We'll be happy to help you decide if MCY 70 skylounge is the perfect yacht for you.